KEY MESSAGES
The 300 energy professionals who gathered in Zellik on September 17th will agree. The Green Energy Party - announced as 'the network event of the year for the energy sector' - lived up to its claim. An impressive line-up of speakers shared their view on Living labs in Flanders. Here's an overview of the key messages of the day.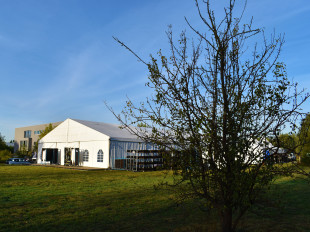 The Green Energy Party was held in a tent, in an open field in Research Park Zellik. A symbolic location, as in the coming years, two important living labs – Green Energy and Green Med-Tech - will be developed at this very spot.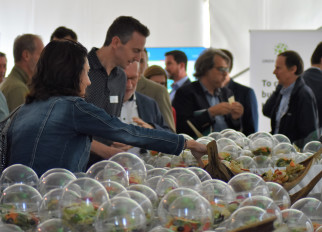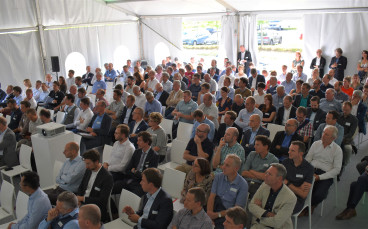 ---
Koen Van Elsen, Mayor of Asse - "It's crucial to integrate a research park in its surroundings" -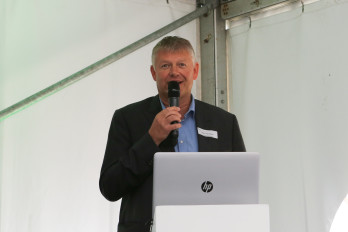 Large-scale projects like Green Energy Park are only possible with the support of the local authorities. "In 2009 already, Asse adopted a position paper on renewable energy. We were quick to build 4 wind turbines and even won a Flemish Climate Prize for our innovative bottom-up approach in 2016," said Koen Van Elsen, Mayor of Asse. "We fully support the plans to develop an immense CO2‐neutral smart grid – Europe's largest – in Zellik's Green Energy Park. We believe it's crucial that this test-ground for innovative energy systems and electric mobility is optimally integrated in the surroundings, so it can bring added value to all."
---
Bart Candaele, Acting Administrator-General, VLAIO - "A good mix of starters, spin-offs and mature companies" -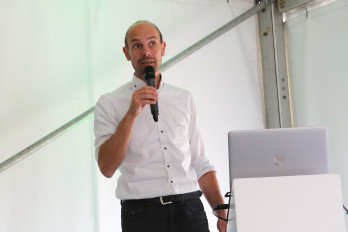 Bart Candaele briefly sketched the history of the site of the Research Park and provided background to the recent decision to drastically modernize park management. VLAIO, Gemeente Asse and VUB work together to ensure that Research Park Zellik attracts those companies that truly belong there. Bart Candaele: "The focus is on innovative, research-intensive companies, preferably with an established link to knowledge institutions. Research Park Zellik aims for a cross-sectoral mix of starters, spin-offs and mature companies, that will make good use of the support regarding research and innovation, that the park management provides. The more commitment the companies show to the research park, the better."
---
Jimmy Van Moer, Manager Energy & Technical Innovations, UZ Brussel - "Follow-up with Education and Training" -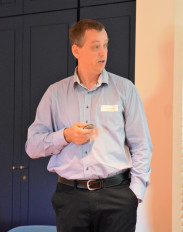 What happens when you have a small plot of land and a large wish list, containing extra parking space, a data center and solar panels? "You have to think out of the box and turn the challenge you're facing into an opportunity," Jimmy Van Moer explained. The idea behind Green Energy Park Zellik – a joint project of UZ Brussel, VUB, Flux50 and other partners – grew organically, until it was officially launched in January 2018.
Van Moer: "The six feasibility studies we've been working on, show the ambition of Green Energy Park to support innovative companies with research and development, and to provide two unique living labs. But looking at the future, we believe there is a fourth essential step in the timeline – when research, development and demonstration are done – and that is education and training. To ensure that Green Energy Park's innovative technologies are implemented and used, our companies will make the necessary efforts to train their employees as well as engineering offices, consultancy agencies and end-users." This is of course a long-term ambition. In 2019, the building of the data center and parking are scheduled to start.
---
Peter Van Den Heede, Country Head of Sales Benelux, ABB - "No company can do this alone" -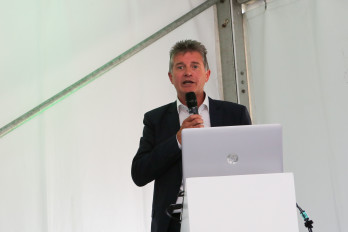 Peter Van Den Heede believes microgrids can empower consumers to lead the energy transition. He gave an overview of the grid edge technologies and digital solutions that ABB Ability offers. The portfolio enables customers to do more with their assets and to participate in new business models to leverage new services, while improving reliability and performance. ABB is an important partner in the Smart Multi Energy Grid that is to be built in Green Energy Park Zellik. "No company can do this alone," said Van Den Heede. "It's more important than ever to work together."

---
Sander Ramioul, Health & Lab Sales Specialist, Halton - "International standard for hospital ventilation is needed" -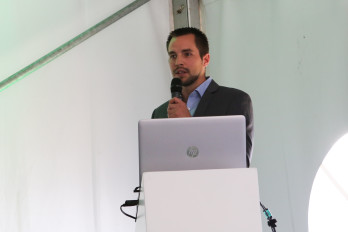 Did you know that the average operating theater in a hospital uses as much energy per day as two households use per year? Imagine the potential for energy optimization, for example through demand driven ventilation. Green Energy Park Zellik is located in the immediate vicinity of UZ Brussels. Through its Med-Tech Infrastructure Lab it offers a testing ground for innovative solutions. Halton, the global technology leader in indoor air solutions for demanding spaces, partnered with Flux50 for a feasibility study. "There should be an international standard for hospital ventilation, with flexibility, energy consumption, comfort and infection prevention as parameters," pleaded Sander Ramioul.
---
Sven Van den Bosch, Business Development, Eandis/Fluvius - "In Zellik, we'll see a Local Energy Community in action" -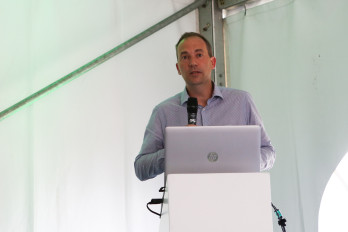 "Local Energy Communities or LECs were mentioned in the EU Winter Package as an efficient way of managing energy at a local community level." Sven Van den Bosch said. "At Fluvius we regard the emergence of LECs as an interesting evolution. We've conducted a feasibility study with Flux50 on the topic. In our view, the role of the distribution system operator is to allow LEC's on public infrastructure, while safeguarding the consumer's freedom of choice." In Green Energy Park Zellik, Fluvius will be dealing with an LEC as a customer, for whom appropriate offerings have to be defined. "This will be a valuable test-case. In Zellik we aim to finetune concepts that we can replicate later, in other contexts," emphasized Van den Bosch.
---
Maarten Messagie, Environmental researcher, VUB - Mobi - "An electric car is only as clean as the electricity it uses" -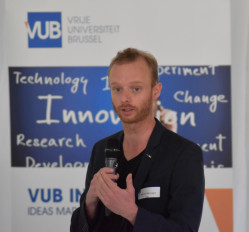 MOBI, the Mobility, Logistics and Automotive Technology Research Centre of VUB, is closely involved in Green Energy Park. They have a team of researchers working on environmental assessments of the transport and energy sector in various national and international projects. Dr. Maarten Messagie gave a status update. "Today, we are witnessing two large transitions, and each comes with a challenge. The clean energy transition gives rise to a lot of imbalance, whereas the evolution towards electric mobility puts battery charging on the agenda. The good news is that the two can be combined into one system, in which they cancel out each other's problems," he asked. Through Life Cycle Assessments Dr. Messagie showed possible pitfalls: "An electric car is only as clean as the electricity it uses."

---
In the presentations after the coffee break, the focus shifted from Green Energy Park to a broader perspective.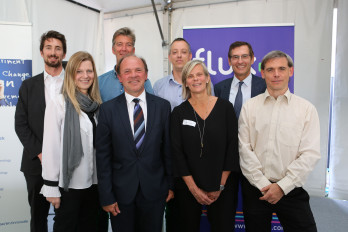 Flux50, UZ Brussel and VUB were honored to welcome Philippe Muyters, Flemish Minister for Work, Economy, Innovation and Sports to the Green Energy Party.
---
Philippe Muyters, Flemish Minister for Work, Economy, Innovation and Sports - "How to cross the Valley of Death" -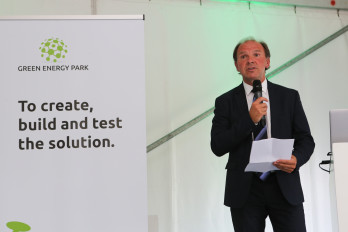 Minister Muyters referred in his speech to the infamous 'Valley of Death' that lies between a valuable idea or concept and a commercially viable product or service: "Living labs can help bridge the gap. They are the test ground where new technologies can be demonstrated in a realistic setting to determine their potential. Through its cluster policy, the Flemish Government supports the development of such living labs." The Flemish energy cluster Flux50 is working to have 10 green living labs for energy technology ready by 2022. Two will be located in Green Energy Park, Zellik; others will be developed in a.o. Opwijk (SME business site De Staak) and Ghent (Smart Multi Energy District De Nieuwe Dokken). Minister Muyters: "The energy cluster already shows cross-sectoral and multidisciplinary cooperation, bottom-up initiatives and the willingness to think out of the box. It would be great to see cross-pollination with the Flemish clusters for food or chemistry."
---
Erwin Ollivier, General Manager, Athlon Belgium - "Disruptions in the mobility sector" -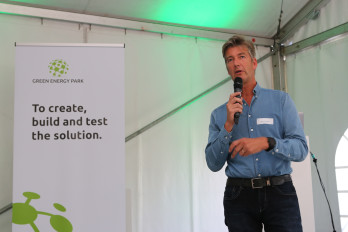 Erwin Ollivier gave an overview of the trends that are shaping and disrupting the mobility sector today: "The breakthrough of electric vehicles is near, now that range anxiety is diminishing and the variety of models on the market keeps growing. Autonomous driving is also rapidly evolving and will increase the driver's comfort dramatically. When these two trends become mainstream, Mobility as a Service will too. The search for an adequate business model is on." Ollivier concluded that mobility is a field in which huge behavioral changes can be expected in the years to come.
---
Donald Vanbeveren, Head of Strategy, Fluvius - "A temporary, control leeward zone to test alternative regulation" -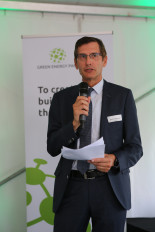 After briefly sketching the research agenda of Fluvius, Donald Vanbeveren underlined the importance of living labs: "Innovation today is mostly system innovation or business model innovation, which means we're dealing with new actors, increased interaction and more complexity. We need room to experiment and check the feasibility of concepts and solutions in practice." Fluvius is an active partner in Green Energy Park Zellik and attaches great importance to replicability – both technologically and societally – and an optimal use of common infrastructure. "Often, innovation makes changes in the regulatory framework necessary," Van Beveren continued. "A living lab then serves as a temporary, control leeward zone where alternative regulation can be tested. In that case it's essential to set clear learning goals."
---
Mark Van Stiphout, Deputy Head of Unit, DG Energy C2, European Commission - "The energy and climate priorities in Horizon Europe (2021-2027)" -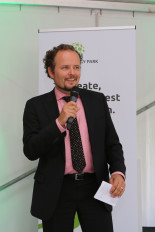 In June 2018 the EU raised the energy efficiency target and the renewable energy target for 2030 to 32%. An important question today is how the 97 billion budget of Horizon Europe – the next research and innovation framework program (and the successor of Horizon 2020) will be spent. "Energy and climate change will remain important topics," Mark Van Stiphout assured. "Priorities within the energy field include sustainable generation, carbon capture and storage (CCS), an accelerated renovation of the building stock, smart cities and energy networks, communities and systems." After summing up some urgent questions from a policy point (e.g. regarding the interoperability of communication technology), Van Stiphout urged the audience to keep an open dialogue with the DG Energy C2: "Keep us posted on all your interesting projects and endeavors."
---
Caroline Pauwels, Rector, VUB - "A living lab can educate and inspire" -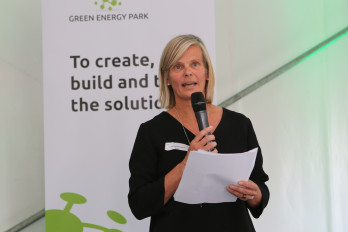 In the closing speech of the day, Caroline Pauwels shared her vision on sustainability and higher education. The rector believes Research and Education should be committed to higher goals, such as human progress and a better world: "We need to believe it's possible to find solutions to global, complex challenges. A living lab like Green Energy Park is a test-ground for innovative, alternative solutions but also an inspirational place for schools and the public. At VUB, we want to teach our students entrepreneurial skills and social responsibility."
---
A surprise video message by Maroš Šefčovič, Vice President of the European Commission for the Energy Union, rounded off the afternoon program.
---
We'd like to thank all our speakers for their captivating presentations and fresh insights.

PHOTO GALLERY